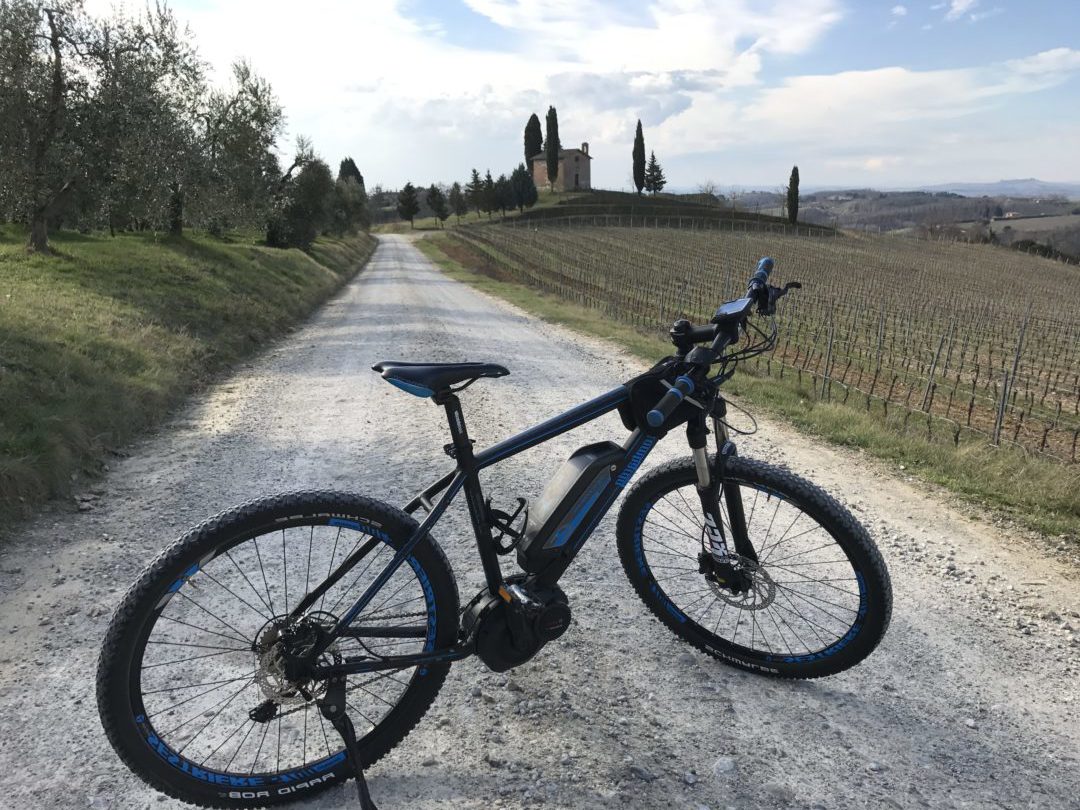 Electric Bikes are the best eco-friendly way to experience Tuscany. Don't think: just for lazy folks, no for me! Tuscan hills can be very aggressive and your muscles very sore.
Take a break from museum lines and crowed spots for a day, enjoy a family getaway, where everybody can have fun, even if at different fitness levels.
We can rent hybrid or mountain bikes. Bosh or Yamaha motors provide power assistance when cycling, and make your uphills a lot more enjoyable. This is super trendy right now, all over around Europe. An electric bike sometimes is more expensive than a scooter.
Different options are available, shorter and longer distances too. Do you prefer asphalt or gravel? A half or a full day tour? Here some ideas:
Half day, Easy

: approximately one and a half hour ride from

Colle Val d'Elsa to Monteriggioni

, stepping on the Medieval pilgrim's path, VIA FRANCIGENA. Starting from our bike rental, we'll go mostly on gravel roads. A gentle terrain slightly ondulating, but never too steep, will take us to Abbadia a Isola, where we'll visit the church. The flat path usued by the pilgrims about 10 centuries ago, will be our route to Monteriggioni, the castle looking like the crown of a king, as

Dante

said. Peaceful and simple, it's an interesting example of Medieval fortifications. Cool spot for a lunch break or a yummy snack. Bikes will be picked up there (a taxi ride can take you back to the rental or you can proceed your journey with your driver).  

Please read carefully the "biking" page for details.
Full day, Moderate to Challenging:

from Siena to

Ville di Corsano

and

Grotti,

then back. Unspoiled corner of Tuscany, Ville di Corsano has a spectacular landscape, plus an authentic farm with free range pigs (the local and rare cinta senese) and one of the best goat cheese makers. On my opinion this is authentic Tuscany.
We can start from Siena downtown – and have a 5 minutes ride through the traffic – or we can have our bikes delivered to the country road. I usually prefer the first option, cause at the bike rental you can choose your bike among many different ones and in different sizes, but it's up to you. The first half hour is mostly on asphalt and low traffic roads. Ondulating hills. In order to reach Radi and its great gravel road, we'll cross a couple of fields which might be slightly muddy. Once we get to our friends Maria and Fiorentino, cheese makers, we have biked for about 2 hours and 26 kilometers (about 16 miles).
Here a cheese taste and a farm visit (25 € per person). Believe me, it's not "just a farm". Maria makes her own bread, using her flower coming from grains not genetically modified. Her farm does not use pesticides, animals are treated with homeopathic remedies, and every process is based on Byodinamics.
For me, at the first experience, it has been a way how to learn about nature, farming, food producing, in an eco-friendly appoach.
Very similar is the philosophy of Daniele, our cinta senese expert. President of the association for the preservation of this rare and interesting pig breed – cinta senese – he has been the one that obtained for that meat, the PDO, protected designation of origin (DOP in Italian, di origine protetta).
He is the one speaking on the video, he is the one hosting us for a real lecture about this incredible animal, a visit to his farm and a taste of high quality products.
Full day, Moderate to Challenging: from Siena to Chianti

, stopping at an open-air art museum.
Chianti is a large region of vineyards and rolling hills in beteween Siena and Florence. Mostly known for its wine, it's very often another picture of authentic Tuscany. Greve, Radda, Castellina are some amous villages, but it's the landscape its best part (large villages destroyed during WW2).
So our bike ride will start from Siena downtown. Winding asphalted roads will take us through cypress trees and peacefull fields, dotted with ancient parish churches and private estates, the famous Tuscan villas. What a scenary! Out of a sudden, among such and "ancient" landscape, we see contemporary art along the way!! These are the "metropolitan ostriches"… A contemporary art gallery has been set in a beautiful park open-air. A visit is a must. We did bike at this point about 15 kms (9.5 miles).
After this very interesting break we have 2 options: take a different road back to siena and stop at a charming estate for a drink and a snack or proceed to San Sano and Ama where to have proper lunch and a wine-tasting. In this second case we'll ask our friends at the bike rental to come and pick up the bikes in Chianti, in the first option instead we will make our way back. Please read carefully the "biking" page for details.
Come with me and I'll let you see the best of Tuscany!
from half to full day
(details in description)
Various
(details in description)
Private Guide
Bike Rental