Starters
I personally love LONDRA. It actually means London but that's a kind of canape' you mostly don't make yourself but you buy or eat directly in a snack bar while drinking your aperitivo.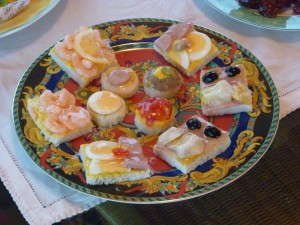 It's exactly what you see in the picture. It's bread with anything on, very elegant and beautiful looking, it's covered with aspic and it's eaten cold. It's our tapa, even if it's just a quick bite while drinking your Prosecco (light sparkling white wine) before lunch or dinner.
You can buy some Londra in Siena at Nannini on the main street or at Sinatti outside of Porta Romana. Yummy!
A homy variety it's a mix of different spreads, where you can put anything… so good and so colorful!

Once at home on Sunday though, Mom will be making Crostini di milza of fegatini, 90% of the time.
 Crostini di fegatini   –   Chicken liver pate'

Very Traditional
I know that just reading or saying it, you won't love this dish… but try it. It's the most common starter in Tuscany, it's cheap and very tasty. Kids love it.
Buy some chicken livers – better if coming from an organic farm – and rost them a bit in a pot, with some olive-oil, salt, garlic and a large leaf of sage.
When they are done (10 mins or so), wait for a few minutes to let them getting colder and add same capers (those in a jar with vinegar. Squeeze them first, to avoid a too strong taste of vinegar), some FRESH persley leaves. Chop everything finely. – Don't use a mixer please…. In that case you'll get a too soft and mushy mix. Use a knife or something quite professional that cuts very finely without loosing the ingredients consistency. –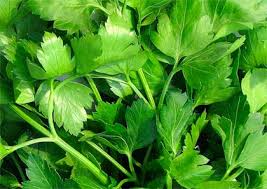 Put the pate' in a jar in your fridge. At the moment you need it, put some of it in a pot and on the fire again – add a few drops of water if it's too dry – and once you get it out of the fire, add some anchovies pate' (you can find them in a supermarket in a little tube, the best quality in Italy is "balena", the others are way too salty! Careful!)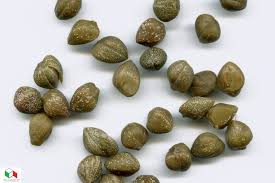 You have to add the anchovies paste just at the very end, a few minutes before serving it, on slices of toasted bread.
Buon appetito!
You can serve them on a nice tray, granny's style, with some fresh carrots, cucumbers, a slice of Prosciutto or some good fresh veggies.
Crostini misti  – Spreads
Events
In Italy, any Sunday once you go to Mom for lunch, or any time you have a guest, fist of all you put something on the table, as a starter, as a snack. Don't think about chips or nuts, they are real cooked dishes, where you can find anything. Sit and taste some smoked salmon seasoned with dill, lemon juice and capers just "lying down" on a toasted piece of bread.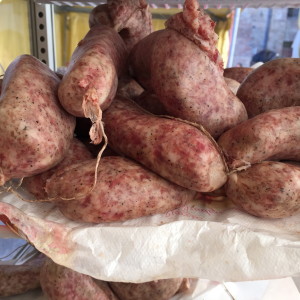 Toasted bread can have any kind of spread then. Fresh pork meat sausage and "stracchino" – soft cheese (baked 5 for 5 minutes), chopped bell peppers and onions, the "green sauce" and so on.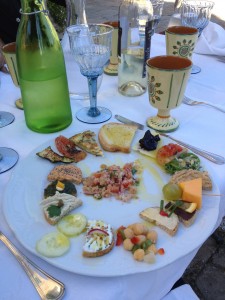 Every region has its own crostini. Anything you like it's fine an appropriate as far is it's spread on a piece of toasted bread!
Pinzimonio
Traditional/Every day
Hard to translate the word… It simply means that you deep good and fresh veggies in a cup filled with very high quality extra vergin olive-oil, salt and some herbs you might like.
Very very simple but fresh and a good source of vitamins.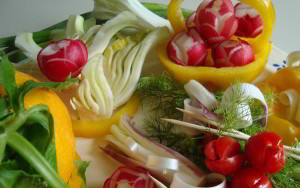 Fresh carrots, celery, fennel roots, bell peppers, fresh artichokes!
Wash them very carefully and display them on a nice tray. Give everybody a small cup where to put some (not too much!!! It's full of calories and you have not to drink it! It's just to have a nice flavor and dressing on your veggies!) olive-oil, salt and herbs.
The secret of the dish is to have very fresh and high quality ingredients.
Enjoy! It might be fun for kids too!
 Cappesante al forno – Baking scallop shells
Events
Scallop shells are quick and easy. Wash them carefully, take them out of the shell and then put them back in. The orange part has to have a very good and strong orange color. If not, don't buy them.
Dress them with some butter or olive-oil (I prefer the oil), some very finely chopped parsely or fresh coriander if you have it. Add safran and some bread crumbs.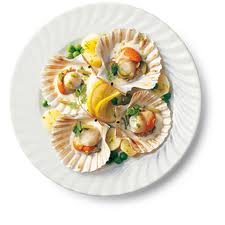 Bake it for about 10-15 minutes. Don't let them getting too cold before you serve them.
Possible option: I like to dress them with some olive-oil, chopped parsley and a mix of asian spicies called "carmencita" I usually buy it in Spain, which has: coriander, cumin, red and black pepper, cloves, ginger, cinnamon and tarmeric (plus something else I guess!). It's delicious!
Passata di piselli con calamari freschi pomodori secchi
di pachino e menta fresca
Pea-soup with fresh Calamari, sun dried tomatoes from Pachino
and fresh mint
Events
I never use can peas… I don't like the smell of the can… I prefer some peas of my sister's vegetable garden, but if not in season I use the frozen ones.
Try to buy good quality peas.
Boil them in water and salt and them put them in a pot with some garlic, persley (not chopped so you can take it away at the end) and olive-oil.
Taste them. I usually put some white sugar in too, to make them sweeter.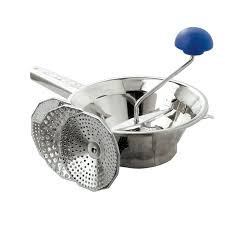 Take a passatutto and mix the whole thing (if no passatutto around then use your mixer but remember that will create a blend that includes lots of air… that you'll find in your stomach very soon… That's why we in Italy still use that ancient tool, that sounds old and time consuming but it has lots of benefits, giving a healthy result.
At this point your soup is basically done, you decide if you like it thicker or softer, adding some more water, but once you are ready to serve it, prepare some fresh calamari, cut in rings and quickly rosted in a pot with parsely olive-oil and garlic. You can actually add any kind of good fish you want, in any flavour.
I'd add on the top some sun dried tomatoes (better if from Pachino, Sicily) – I take the real dried one and let them boil in water a few minutes to make them tender – remember they are usually very salty. Add on the top some fresh chopped leaves of mint.
Buon appetito!!!!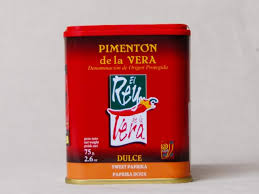 p.s. if you have it around, add some Pimenton de la Vera on the top, instead of the sun dried tomatoes. It's so good! It will add a very unusual taste! It's a very typical Spanish spice, produced in the area of Caceres, it's very strong red in the color and simply a powder, rich in taste; a variety is spicy and hot, with a smoked flavor.